Having never visited Greece's mainland, at the beginning of October, I decided to invite my daughter-in-law for a long weekend at Ikos Olivia. The resort is located in Halkidiki, a peninsula in the southern part of Thessaloniki in the region of central Macedonia.
Halkidiki is famous for its 550 km of pristine white beaches as well as for its historical past, it is a real and true gem of the Mediterranean. This paradise is only a 1 hour 1/2 flight from Italy, the nearest airport is the one of Thessaloniki connected to the main international airports.
Three minor peninsulas form Halkidiki, each one is rich of natural attractions and landscapes that you must absolutely see. Three strips of land that extend themselves towards the Aegean Sea with lush greenery, incredible pristine beaches and extraordinary vestiges of the past.
The flight from Bergamo Orio al Serio to Thessaloniki takes about 90 minutes. Stepping out the airport, a staff member of Ikos Olivia greeted us with a smile and offered us chilled bottled water escorting us to a Mercedes Bens waiting for us. The drive from the airport to Ikos Olivia took about 45 minutes.
Our arrival at Ikos Olivia
Upon passing through the security gate, we immediately felt and sensed the unique Ikos Resorts atmosphere. We were welcomed by porters who took our luggage and by a very friendly young lady, from the Guest Relations, who lead us to a sitting area where we were offered something to drink and fresh lemon-scented towels. Check-in was fast and calm and were quickly taken to our room.
In our room, waiting for us, we found a bottle of Champagne and fruits with a welcome note: a touch of elegance which is typical of the Ikos Resorts!!!
Our open space sea view room, was elegantly decorated combining different shades of blue, cream and sand, a comfortable living area with a sofa and coffee table, a huge bed (which in our case was transformed into two twin beds), a flat screen TV and dresser with a mirror. WI-FI access is available as well as a minibar, which can be replenished daily, with soft drinks, mineral water, miniatures and wine. A Nespresso coffee machine and all you need to make yourself a cup of tea is also at your disposal.
The bathroom was huge, with rain shower, bathrobes, slippers and very high quality Anne Semonin Paris toileteries.
The furnished terrace, had a breathtaking view on the sea and the beautiful park with century old olive trees, saying it was spectacular is a euphemism. Sitting on the terrace in the evening enjoying a glass of wine admiring the sunset, was one of my favorite moments of the day.

The characteristic of the Ikos Resorts is the Infinite Lifestyle which is none other than their wonderful and exclusive way of being. The Ikos Resorts are completely all-inclusive you can enjoy the minibar, 24/24 in room service, snacks at the various bars including at the pools and beach in addition to many other benefits that I will explain as I go.
Ikos Olivia is located on the Gulf of Toroneos and extends itself on 22 acres of perfectly integrated landscapes. Centuries old olive trees and a luxuriant vegetation, manicured gardens which extend themselves to almost touch the white sand of the Aegean beach surround the resort.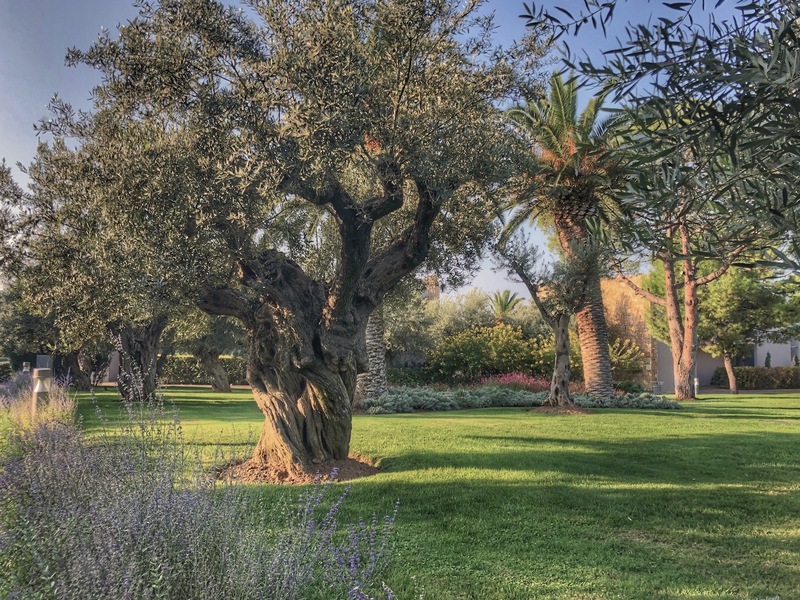 How did we spend our time during these 5 days??
Provided that our intent was to relax, relax, relax!!!!
Let's start with the restaurants which are a highlight of the Ikos Resorts and, as an Italian that loves good food, I fully agree. Ikos Olivia offers 4 à la carte dinning options of excellent quality and mostly have menus created by Michelin-starred Chefs.
Each restaurant has its own wine list, if like me you are not an expert in wines, a Sommelier will be pleased to help you out in choosing the perfect wine to match you meal. Flavors, a buffet style restaurant, is also available, with a wonderful selection of food able to satisfy the most difficult palates. A dine out experience is also included in the Infinite Lifestyle.
As far as breakfast well we where really spoiled for choice, we tried all of them!!!
Ouzo: has a charming open-air sea front structure and is the ideal place to start the day.
Provence: elegant and refined, with its wonderful terrace facing the pool was our favorite.
Flavors: the main buffet style sea view restaurant.
All the restaurants are buffet style and you will find everything you could wish for: fresh fruits and juices, croissants, cold cuts, cheese, vegetables, cakes and various types of sweets, greek yogurt and the chefs will be pleased to prepare eggs to your liking. A good breakfast is the best way to start the day!!!!
As far as lunch is concerned I personally prefer a light snack on the beach. For those who like a classic lunch you have the choice between 3 restaurants: Ouzo with its chargrilled meats and vegetables from the BBQ and Provence with buffet service from 13:00 to 15:00 and à la carte option from 12:30 to 17:00 – Flavors the main buffet style restaurant open from 12:30 to 14:30.
What about dinner?
Let me tell you where we had dinner.
On the first evening, arriving quite late we decided to try out the main buffet restaurant, Flavors, which has a beautiful sea front location. I must say that we really enjoyed our dinner, the mediterranean style buffet and show-cooking corner was varied and plentiful.
OUZO with its stunning beach front location is intimate and relaxing. The à la carte menu foresees traditional Greek cuisine with a touch of modernity accompanied by wines able to satisfy the most difficult palates. I would suggest you try the delicious fried calamari and the Moussaka one of the best I have ever tasted.
PROVENCE elegant and tranquil à la carte French restaurant where you can enjoy delights of the Provencal cuisine. The menu is created with the help of the famous Chef Anthony Jehanno.
FRESCO Italian restaurant. The à la carte menu has been created by Michelin-starred Chef Ettore Botrini. Here, you will find a choice of classic dishes and innovative creations of the Italian cuisine, as well as excellent wines to accompany your dinner.
ANAYA the Asian restaurant my favorite with a breathtaking sea view serves superb food with flavors coming from China, Thailand and India enriched by a menu created by the Chef Katsuhiko Hanamure. My favorite dishes were the prawn noddle soup with lemongrass, spring rolls, sauté noddles with chicken, Japanese tempura with Yuzu sauce and the best way to finish your meal is with the grilled pineapple with banana crumble and mango sorbet.
One evening we have also tried the dine around option and went to the Anemomylos, a classic relaxing and casual Greek tavern, it is about 200 mt from the resort. This option is also included in the Infinite Lifestyle. We had a very good dinner and the personnel were really welcoming and kind.
Remember that for the à la carte restaurants, you need to make reservations for dinner and smart casual clothing is requested.
What did we do during the day!!!
Beach and pools
Ikos Olivia is the right place if you want to relax, it has infinite space to allow you to do it and mostly outdoors. Four beautifully designed pools: one indoor/outdoor pool at the SPA, one at the beach, another within the Deluxe area and the last near the main building, as well as a long white sandy beach where the most comfortable sun loungers will be waiting for you.
One of the things that I really appreciated was the all-day waiter service at the beach and pools. Attentive and caring staff serve you food and drinks doing all their best to render your stay as pleasant as possible.
Well I must say that it was pure relaxation, headphones on with my preferred music, a good book to read and a light snack directly under my umbrella what else do you need!!!
The choice and the quality of the food and drinks either at the beach than pool was excellent – cold and hot drinks of any type, milkshakes, ice creams, hamburgers, sandwiches, fresh fruits. I must thank Christina for her professionalism and patience with which she satisfied my every request.
For those who have small children or teenagers no problem as Ikos Olivia has foreseen to please them also, offering really exiting activities (in and out of the water), while the parents can relax knowing that their kids are in good hands at the Kids Club.
Heros Crèche for small children from 4 to 23 months (1 adult every 3 children) and from 2 to 3 years old (1 adult every 4 children) – (this service is at extra charge).
Heros Kids Clubs for children from 4 to 12 years old (1 adult every 8 children) – free of charge (extra charges may occur for water sports or ice cream trips)
Just 4teens for children from 13 years old (1 adult every 8 children) – free of charge (extra charges may occur for water sports).
In these clubs many activities are organized as by the different age groups of the children as arts and crafts, sports, cooking, water sports, swimming and various games.
WK football academy is also available for children from 5 to 8 years old and from 9 to 14 years old (this activity is at an extra charge).
The SPA
The ideal place to relax. The SPA boasts a heated indoor/outdoor swimming pool, hammam and sauna, steam bath, fitness studio all at no extra cost.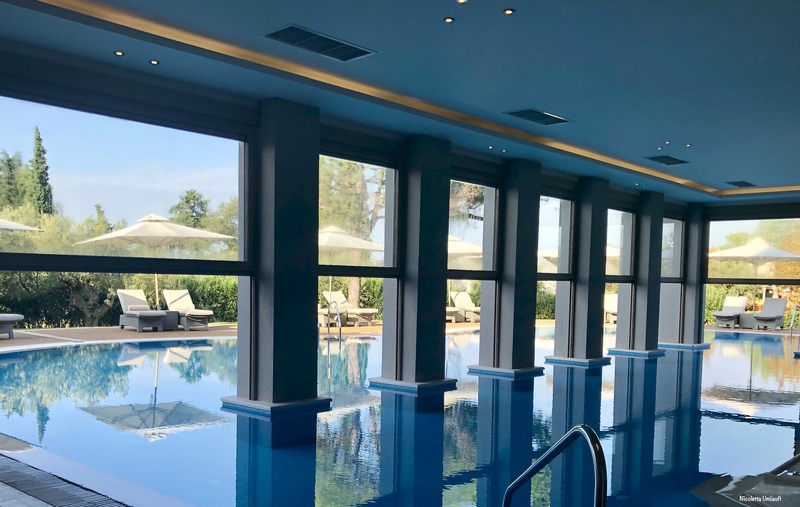 The hairdressing and nail salon as well as the various treatments of the renowned leading French beauty brand Anne Semonin have an extra cost but believe me, it is really worth it. The various treatments are executed by qualified and experienced therapists.
For those who can't live without exercising, the fitness room will allow you to keep in shape. You can do Yoga, Pilates, aqua gym, aerobics, Zumba, stretching the only condition requested is wanting to do it!!!!!
Ikos Olivia also has an extensive selection of sports, games and activities: tennis, squash, mountain biking, aquatic sports and many others, you certainly will not have time to get bored while on holiday!!!!
If you like to walk and stroll around this is the ideal place as it has a beautiful park of 22 acres with ancient olive trees and fragrant firs providing shade and privacy. I loved strolling around and sitting under a olive tree to read a good book.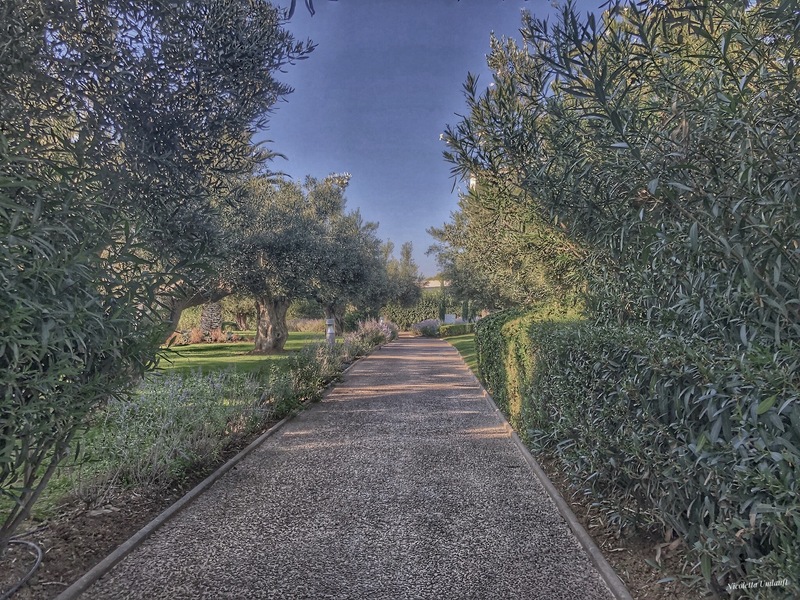 What about the evening?
Before dinner we would go at the Helios bar down at the beach where, while having a drink, we could listen to live music admiring each evening a different sunset.
After dinner there's always something to do for everyone, from live music and dancing, open air theatre where musicals and kids shows go on, or just stay at the Lobby Bar and enjoy a drink having a chat with friends.
Once a week the beach is set up for the White Party. We really enjoyed dancing bare foot on the beach to the sound of live music in an enchanted atmosphere.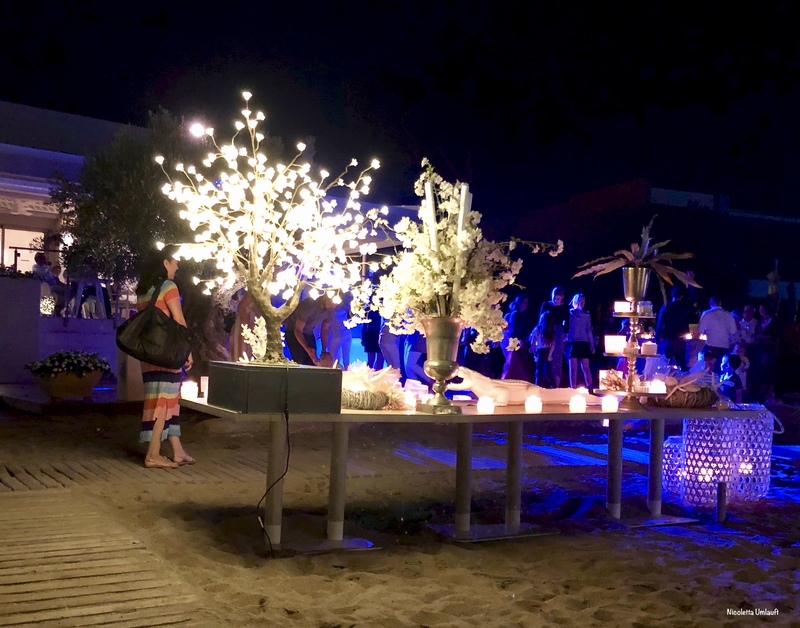 A drive around the area with the Blue Mini
Ikos Olivia puts at your disposal a blue mini cooper free of charge for one day. Upon arrival you just have to book the mini. The only obligation is that you refill the tank before returning the mini.
In this way Ikos encourage their guests to visit the surroundings in complete freedom, enriching their holiday and supporting the local community.
If you wish to explore you can find various villages in the surroundings and the port of Nea Moudania at about 20 minutes from the resort. We went to Nikiti, a very pleasant locality with natural attractions and a beautiful coast.
Ancient Nikiti, built on a hill, develops itself around the church of Agios Nikitas, a Greek Orthodox church and one of the most important old buildings in the village built in 1867. Nikiti is very fascinating with its superb Macedonian architecture and the small houses made of stones and built in the traditional way.
Deluxe Collection
Should you want an even more exclusive holiday, you can as at Ikos Dassia, Ikos Aria and Ikos Oceania you can opt for the Deluxe Collection. Besides all the benefits that you get with the Infinite Lifestyle, the Deluxe Collection offers even more personalized benefits.
The suites are located in an exclusive area of the resort with its own reception, pool and private beach.
The guests of the Deluxe Collection have exclusive benefits as for example a special dinner on the beach, a bottle of Tattinger, upgraded minibar, pillow menu and, in addition to this, a neck and back massage per stay.
I would like to thank Veroni Kapa and all the staff of Ikos Olivia that have made our holiday unforgettable.
Final verdict
Ikos Olivia was our third experience after having been at Ikos Dassia and Ikos Aria. I could go ahead for ages to list all the reasons for which I continue returning to a Ikos Resort, even if maybe the main reason is the staff who is to say the least, outstanding. All without distinction, do the impossible to make you feel special and render your holiday an unforgettable one. A special thank you to Veroni Kapa and all the staff of Ikos Olivia for having made our holiday an unforgettable one.
The Infinite Lifestyle is really the top and Ikos in this does not disappoint offering a true luxury all-inclusive.
Cannot wait to try the new Ikos Andalusia that will open next year in Spain. It is really nice to see how the Ikos family is continuously growing!!!!
Disclaimer: this article has been written by me after having stayed 5 nights at Ikos Olivia with my daughter-in-law Eleonora. The stay has been regularly payed and not free for promotional purposes.