Lake Garda, with its surface of about 370 km2, is without any doubt the largest and in my opinion most beautiful and peaceful lakes in Italy. Every year, thanks to its picturesque villages, unspoiled nature, amusement parks and a variety of activities that you can practice in the area, Lake Garda attracts many Italian and foreign tourists looking for a holiday away from big cities.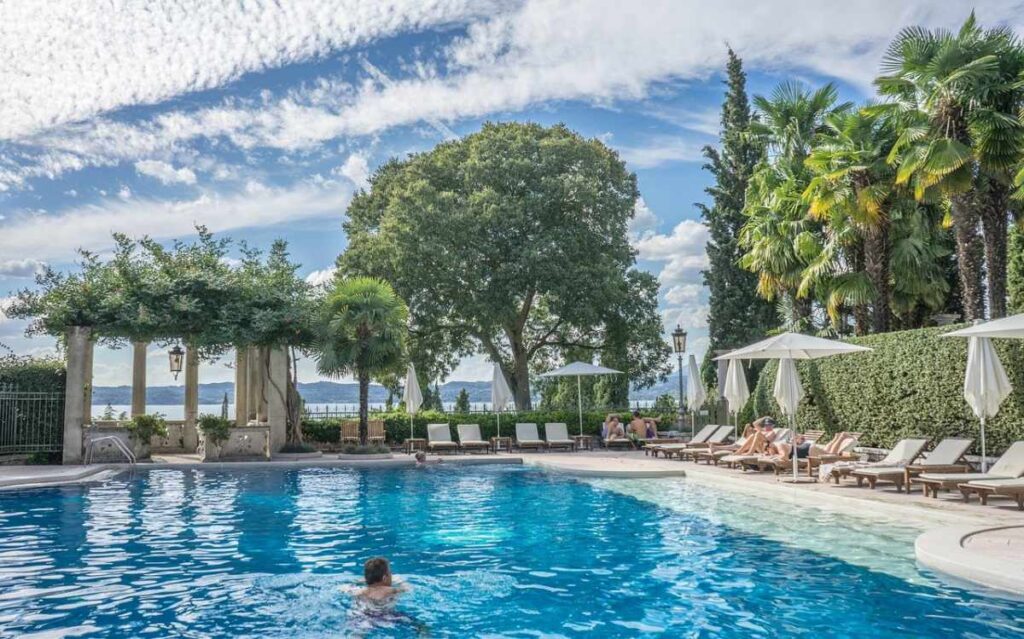 Being Lake Garda quite big, in order to organize your holiday in the best of ways, you must carefully choose the area that will be your starting point.
For example, did you know that Lake Garda is shared by 3 regions? Trentino South Tyrol, Lombardy and Veneto! Therefore to make things easier I will divide this post in these 3 areas.
I will do my best to give you advice on where to sleep on Lake Garda: in fact, each location is more or less recommended depending on the type of holiday that you are planning to have.
Are you in a hurry? Here you will find a few of the best hotels on Lake Garda:
Locanda San Vigilio : charming 16th-century locanda which has without any doubt one of the most outstanding locations on Lake Garda
La Locanda del Benaco : one of the best boutique hotels in Salò (Lombardy)
Hotel Villa Capri: luxury hotel in Gardone Riviera (Lombardy)
Let me help you choose which shore to stay on Lake Garda
On the shores of Lake Garda you have more than 20 distinct villages.
As I have mentioned, Lake Garda is divided between three regions:
The West Shore belongs to Lombardy (in green on the map);
The South – East shore belongs to Veneto (in red on the map);
The North shore belongs to Trentino (in blue on the map).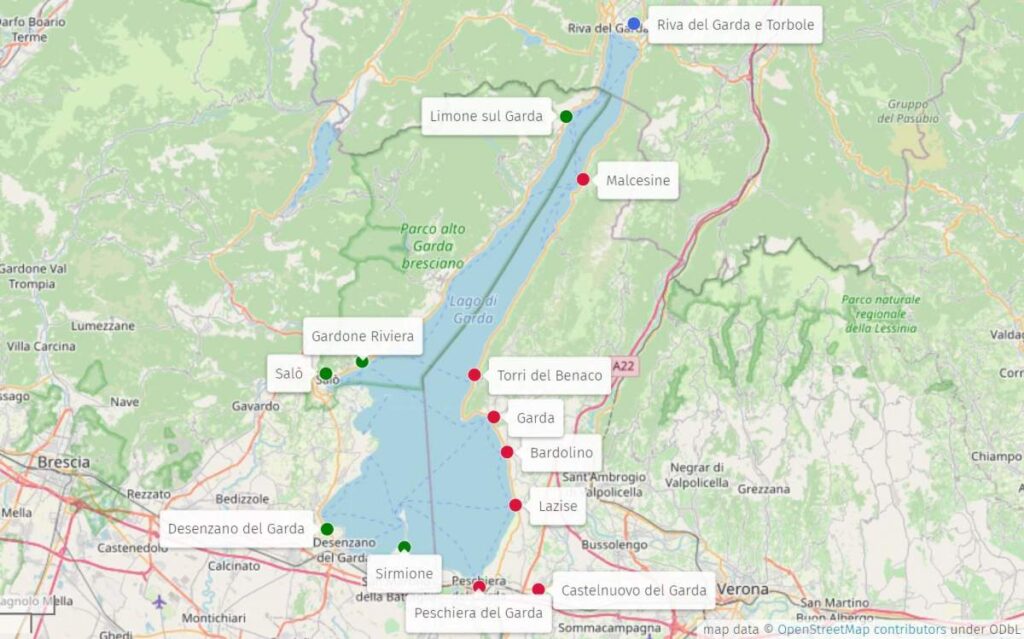 The first thing you should decide is which shore you want to visit.
You must however keep in mind, that each shore of Lake Garda has its own specific characteristics.
The southern shore is where you will find the amusements parks of Gardaland, Movieland and Caneva World: this is the best area if you are planning a family holiday.
Are you a sporty person? Well then the northern area is the one for you: here you will be able to take surfing lessons, go cycling, venture on the many hiking trails or practice climbing. Riva del Garda is one of the most popular destinations for sports such as sailing or climbing.
Riva del Garda is in the Trentino region and is my favorite: sitting at the foot of a majestic mountain, Riva del Garda is surrounded by green valleys and beautiful views of the lake.
Moving south along the shore you have the Venetian shore: here you will find many towns among which one of the favorites is Garda, a picturesque village full of lakeside restaurants, relaxing walks, breathtaking scenes and historical attractions.
Bardolino is located just south of Garda. A maze of alleys and lanes, this small village is home to a wide range of restaurants, bars, clubs and cafes.
Sirmione is a charming and busy small town situated on a peninsula that stretches out into the southern part of the lake. It is a historic town with interesting sights, intriguing attractions and plenty to see, do and eat.
At the southwestern end of the lake you have Desenzano, a lively town, Desenzano is a great place to sit back, relax and admire the breathtaking scenery.
The western shore, on the other hand, is perfect if you are interested in cultural visits or if you just like to stroll around its small towns.
Obviously, choosing a shore rather than another does not exclude that you can move from one part of the lake to another, but remember that because of the size, if your time is limited, it is better that you focus only on one area.
Below I will recommend in detail some of the best places to stay on Lake Garda.
Lombard Shore
The Lombard Shore, as I was telling you, is the one that lies to the west of Lake Garda, between Sirmione and Limone del Garda.
1. Sirmione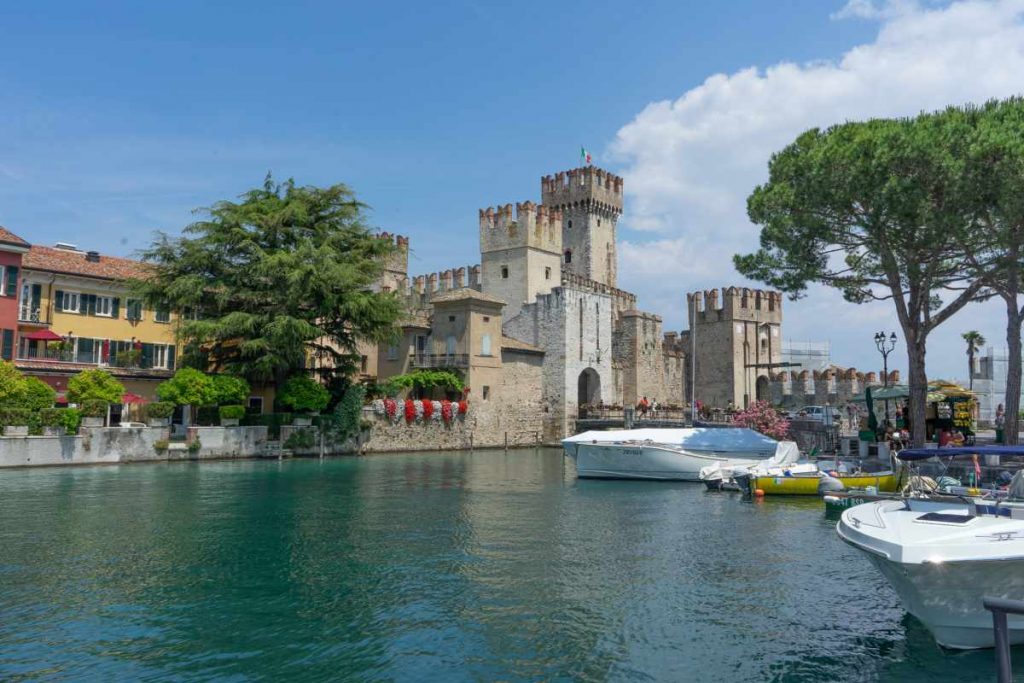 Sirmione is one of the most popular holiday destinations on Lake Garda, because of its particular location, its SPAS and its characteristic Old town.
This small town sits on a peninsula that stretches out into the lake, medieval towers and narrow streets are the frame of one of the most beautiful locations of the area.
Strolling through small boutiques and craft shops it is easy to understand why this small town is one of the most expensive places to stay on Lake Garda.
Sirmione is located in a strategic position which allows you to move around the area and explore other small towns overlooking the lake and, why not, spend a day at the amusement parks in the area.
When in Sirmione I would like to suggest you a few places that you should not miss:
The Scaliger Castle (Il Castello Scaligero): this unique castle is surrounded by water, a rare example of medieval port fortification
The Catullo Caves (Grotte di Catullo): an interesting Roman archaeological site at the northern end of the Sirmione peninsula
Jamaica Beach: not far from the center of Sirmione you will find this unique beach where flat slabs of rock extend out into the water, with an almost tropical aspect. If you go remember to wear aqua socks as the rocks can be slippery and sharp.
Thermal baths in Sirmione (Terme di Sirmione) : a thermal center where you will be able to relax for a few hours.
Best places to stay in Sirmione:
The Villa Cortine Palace Hotel: stands on a green hill overlooking the entire peninsula of Sirmione, only a 5 minutes walk from its historic centre. Ville Cortine has beautiful gardens with fountains and neoclassical statutes, ideal for a Romantic holiday or weekend.
Hotel Eden: has an excellent location in the heart of Sirmione. This 4-star hotel is right on the lakeshore and 100 mt from the Sirmione Castle. It offers excellent service and modern rooms, free Wi-Fi and LCD TVs.
2. Desenzano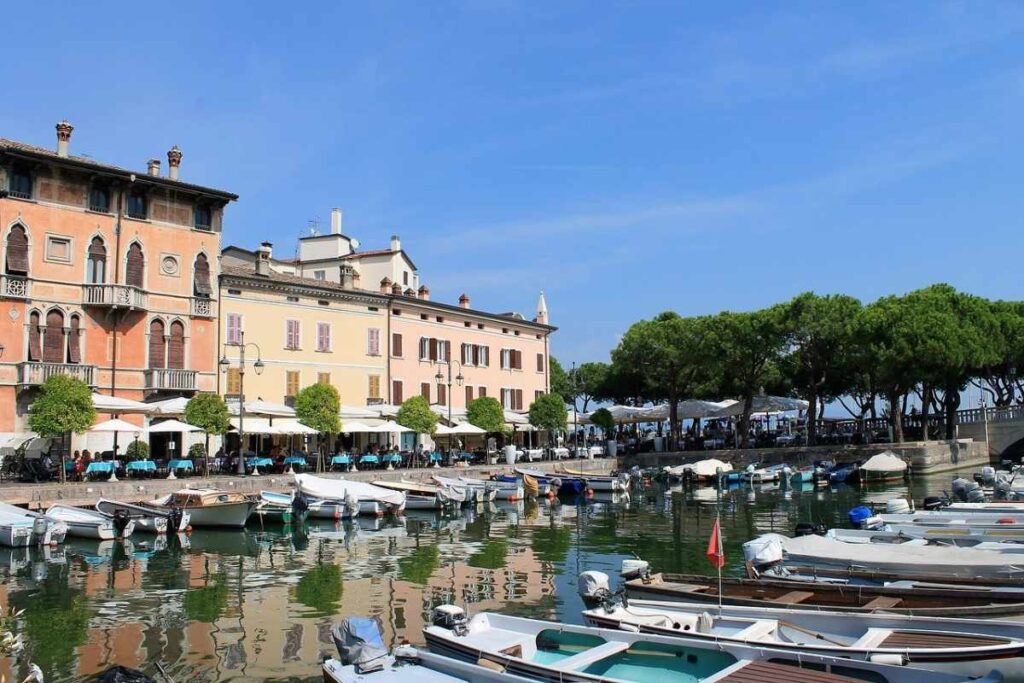 Not very far from Sirmione you will find Desenzano del Garda, the most populated center of the lake.
This small town is beautiful, and has many attractions and is very appreciated by the young people for its lively nightlife. Here you will find restaurants and trendy places where you can spend pleasant evening.
Desenzano is not only nightlife, here you will find not far from the center many beaches and points of interest not to be missed.
The Castle of Desenzano: deserves a visit especially for its breathtaking view.
The Cathedral: preserves a "Last Supper" attributed to Tiepolo.
The Archeological Museum: houses what is considered the oldest plow ever found.
From Desenzano you will find daily boat trips to explore Lake Garda "via water".
Best places to stay in Desenzano:
Park Hotel: the best 4-star hotel in Desenzano del Garda, it has a rooftop pool with hot tub and sun terrace. Located 5 minutes from the harbor. Breakfast is served on the veranda or in the garden overlooking the lake. Guest can enjoy local and Mediterranean cuisine at the on-site restaurant.
Villa Rosa Hotel Desenzano: is right on the lakefront, near a small beach and a 10-minute walk from the town center. All rooms have a balcony and feature free Wi-Fi and 55″ Smart TV. On site restaurant, an outdoor pool and hot tub.
Piccola Vela: this 4-star hotel is my favorite it is a short walk from the historical center of Desenzano. Here you will find friendly staff an outdoor pool, sun terrace with a hot tub and free private parking. Rooms are comfortable with air conditioning, satellite TV and slippers some rooms have a breathtaking view on the lake.
3. Salò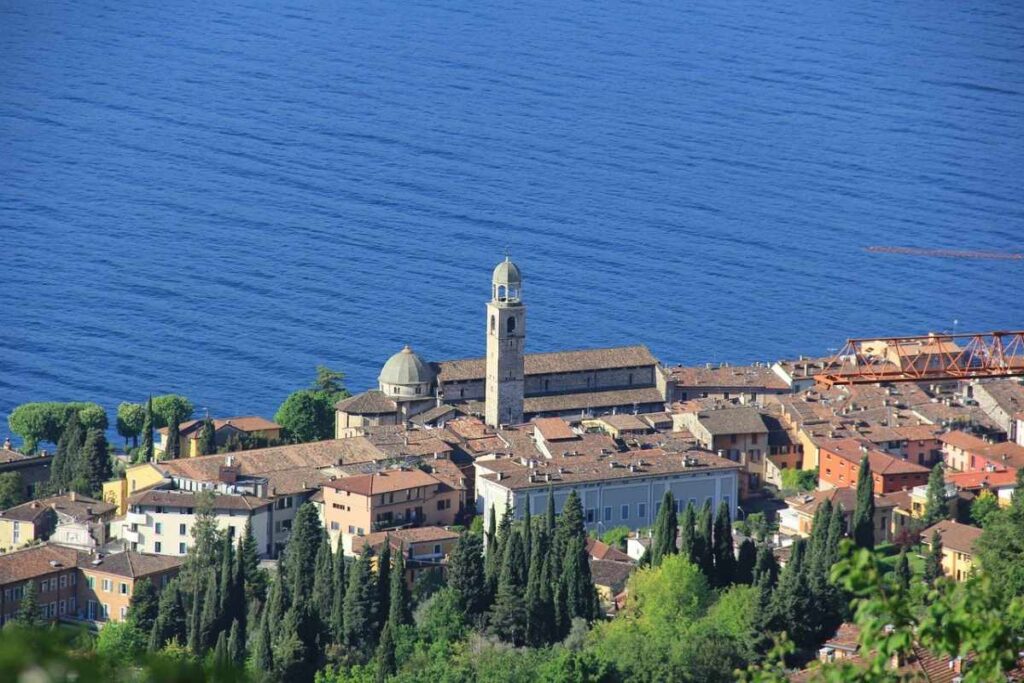 Salò is the right location for a romantic stay on Lake Garda.
Strolling along the lakefront is a must, and you cannot miss a drive along the scenic road that from the town goes towards north.
I suggest you take a walk to the Church of San Bartolomeo from where you will enjoy a breathtaking view of the lake.
From the harbor of Salò you will also have the possibility to take boat trips to visit other towns in the area.
Best places to stay in Salò:
Hotel Salò du Parc: this charming 4-star hotel is set in a historical garden overlooking the Gulf of Salò, 5-minutes walk from the center. The spacious rooms are warmly decorated and offer air conditioning, TV and balcony.
Hotel Spiaggia d'Oro Charme & Boutique: elegant hotel overlooking Lake Garda, near the port of Barbarano. Its location is just fantastic, halfway between Salò and Gardone Riviera.
Borgo il Mezzanino: located in Salò is a romantic agritourism with a terrace and views on the beautiful garden.
Rooms are comfortable and very clean, with private bathroom with bath or shower, bath robes and slippers provided. Free Wi-Fi throughout the property.
4. Gardone Riviera
Gardone Riviera is a small touristic town on the Western Shore of Lake Garda in the Province of Brescia, in the Region of Lombardy. The perfect destination for a relaxing holiday where you will enjoy walks, nature, a peaceful lakeside and good food.
Gardone is famous for the Vittoriale degli Italiani, a complex consisting of buildings, squares, streets, gardens and monuments that where built on request of Gabriele D'Annunzio to celebrate Italy's victory in the Great War.
Best places to stay in Gardone Riviera:
Grand Hotel Fasano: this 5-star historical hotel is set right on the lake shore. It has a modern wellness centre, a park with swimming pool and a restaurant with a terrace overlooking Lake Garda.
Guest have private access to the lake and can enjoy breakfast on the terrace.
Rooms are elegant and spacious, air conditioned with a minibar, laptop safe and LCD TV. A parasol, sun loungers and beach towels are included in the rate.
Hotel Villa Capri: set in a private garden with swimming pool, here you will find spacious rooms with balconies and views of Lake Garda. Wi-Fi and parking are free. Breakfast is served during summer in the garden.
5. Limone sul Garda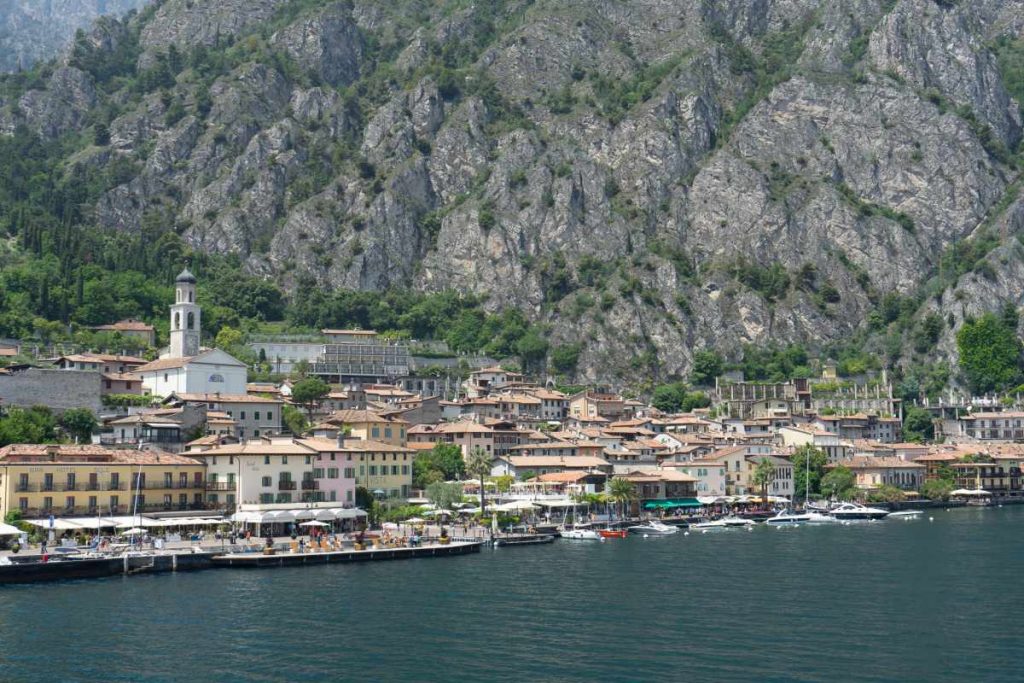 The last town on the Lombard shore where I suggest you to stay is Limone sul Garda. This town, as its name suggests, is famous for the growing lemons and other citrus fruits as well as the production of olive oil. If you decide to stay in this town, a visit to an old lemon grove as the Limonaia del Castèl, which is open every day in summer and Sundays in winter.
Limone sul Garda is the perfect destination if you want to rest and relax for a few days. Its old town still has the typical atmosphere of a small fishing village where life flows slowly and without hurry.
Best places to stay in Limone sul Garda:
Hotel Limone: this 4-star hotel offers and outdoor swimming pool with whirlpool and views of Lake Garda. All the rooms have balconies, some with lake views, the on-site parking is free of charge.
Park Hotel Imperial: this 5-star hotel has an amazing location, near the town's center. Rooms are clean and very comfortable with balconies, with flat-screen satellite TV and air conditioning.
On-site wellness centre includes a Turkish bath, sensory showers and a wide range of beauty treatments. The restaurant serves local cuisine and Italian specialities.
Venetian shore
The Veneto side of Lake Garda is the perfect place if you want to spend your days in the many amusement parks in the area.
The Veneto territory extends itself from Peschiera to Malcesine.
1- Peschiera del Garda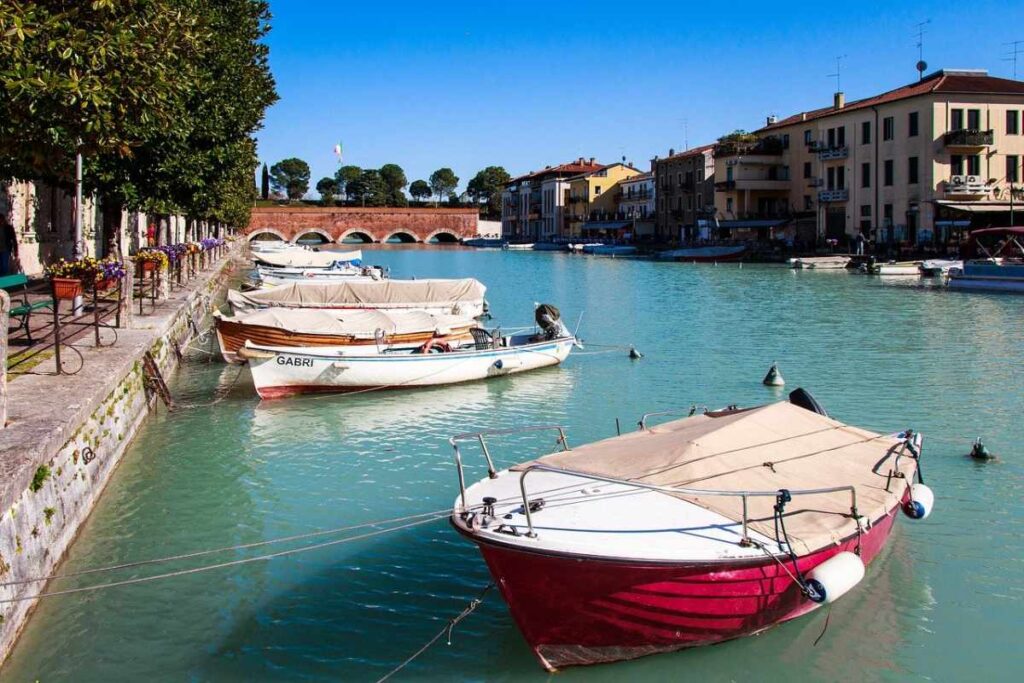 Peschiera del Garda is one of the most popular and picturesque towns on the shore of Lake Garda – the town is small and charming and not far from Gardaland the famous amusement park.
Peschiera has places of interest which are worth a visit as:
the historic Città Murata di Peschiera del Garda
the Madonna del Frassino Sanctuary and the Museum of the Palazzina Storica
Relax at the beautiful Bracco Baldo beach
Have fun in the amusement parks as Gardaland and Canevaworld
Peschiera is the perfect destination for couples and families.
The center has many restaurants and clubs, as well as beautiful beaches where you can relax and easily travel around to explore other locations.
Best places to stay in Peschiera del Garda:
Le Ali del Frassino this 4-star hotel is great for couples, located directly on the lake with amazing views. Offers an outdoor pool, SPA and wellness centre, rooms are spacious with comfy beds and free WIFI access is available in all the areas.
Vision Hotel this 4-star hotel is not far from the famous amusement park Gardaland. Good hotel with restaurant, free parking, garden, terrace and rooms with private bathroom, air conditioning and flat screen TV with satellite channels.
2 – Castelnuovo del Garda
If your main idea is to visit Gardaland, then the perfect place to stay is Castelnuovo del Garda.
Prices of the hotels are definitely cheaper than the neighboring towns and the park is very easy to reach.
The center of the town is pleasant and you will not struggle to find restaurants where you can eat at reasonable prices.
Best places to stay in Castelnuovo del Garda:
Gardaland Adventure Hotel: here you will find themed rooms, each different one from the other, free WIFI throughout the property and guests can enjoy on-site restaurant and a 3,000 m2 outdoor area with swimming pool, jets and a waterfall.
Agriturismo La Palazzina: located among the vineyards it is very peaceful and quiet. La Palazzina offers a swimming pool with sunbathing area and bike rental. Rooms are air conditioned, satellite TV and WI-FI access.
Gardaland Hotel: features landscaped gardens with a large lagoon pool, only 2 km from Lake Garda and offers a free shuttle bus to the most famous theme parks every 30 minutes. Fairy tale themed or garden view rooms are available.
3. Lazise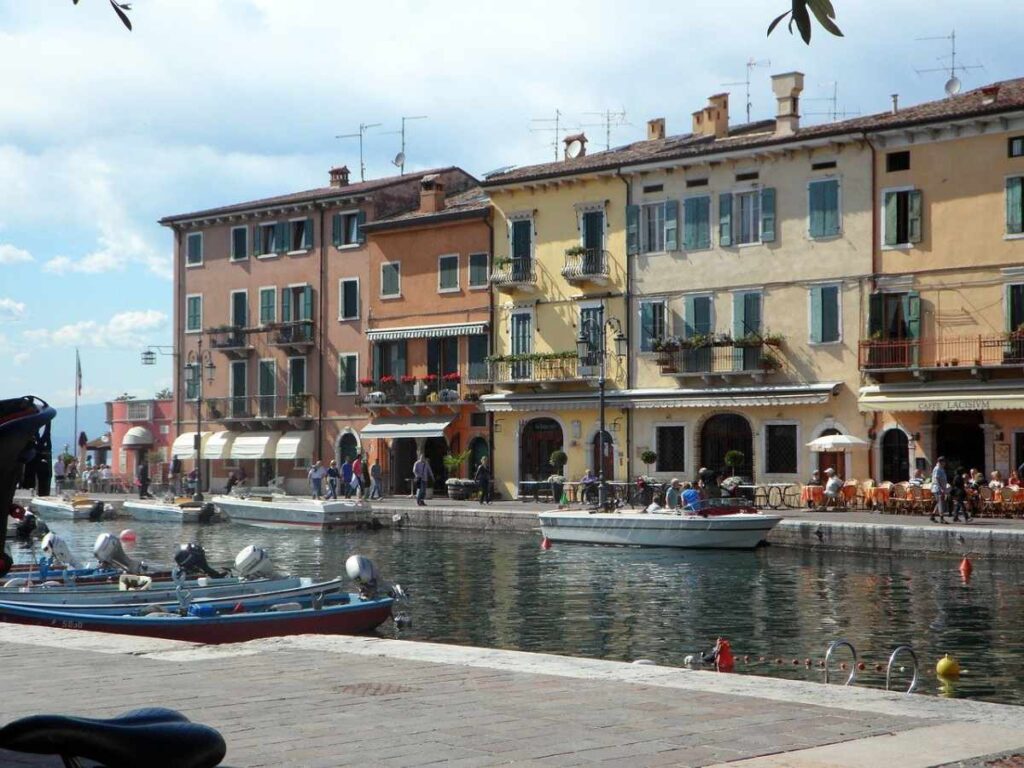 Lazise is located on the east shore of Lake Garda, it is one of the most important touristic centers of the lake, this thanks to its natural beauties, restaurants and shops.
Lazise has a charming old town centre, with narrow alleys and picturesque squares, and its harbour is set right in the centre of the town.
Walking along the lakeside you will be able to admire the magnificent villas dating back to the eighteenth century like "Villa Pergolana" (the most famous), "Villa Bernini" (surrounded by antique towers), "Villa Bottona" (built in medieval style), "Villa Baratta" (with its beautiful park).
Best places to stay in Lazise:
Quellenhof Luxury Resort Lazise – this exclusive 5-star luxury resort surrounded by olive and pine trees is a place you will not forget. You will be impressed by the attentive service and sophisticated innovative hotel architecture.
Hotel Relais agli Olivi – this 3-star superior hotel is surrounded by greenery, a stone's throw from Lake Garda in Lazise, it is the ideal retreat for those who want attentive service in a peaceful setting. Amenities at this hotel include a swimming pool and solarium, a large well-kept garden and enjoy beautiful view of the lake and the surrounding hills. All the rooms have terrace or balconies.
4. Bardolino
Bardolino is an excellent solution as it is in a strategic position to explore the surrounding scenery and hike in the hills. Bardolino is one of the most important touristic destinations on Lake Garda.
Bardolino is chic and sophisticated and its center is lively and has charming restaurants and clubs for an after dinner.
Bardolino has very good midrange hotels which are perfect for families and couples.
Best places to stay in Bardolino:
Hotel Caesius Thermae & Spa Resort – this 4-star superior hotel is only a few steps away from Lake Garda, immersed in a real natural oasis. The complex reserves it guests a relaxing atmosphere, gentle and suggestive views, pure air, mild climate and spring water. It is only 15 minutes away from the charming old town of Bardolino.
5 – Garda
Garda is one of the most popular destinations on the "Riviera degli Ulivi" coast. The lake, formerly known as "Benàcus" or "Benàco" was named after the town of Garda. The old town centre has kept the charm of a medieval town, with its small colored houses.
Garda is surrounded by green slopes and picturesque views and is located in a stunning bay on the lake. You will be able to stroll along its promenade and enjoy delicious meals in the various lakeside restaurants.
Best places to stay in Garda:
Sky Pool Hotel Sole Garda – this 4-star hotel is just a two-minute walk to the shores of Lake Garda, its location is perfect for visiting other towns around Lake Garda, as it is near the main road – and just a short walk into the town of Garda. Unwinding at the rooftop pool and bar area is just fantastic and the views of the lake are to die for.
The colored and bright rooms have private balconies or terrace, air conditioning, mini bar and WIFI.
6. Torri del Benaco
This picturesque town is located in the province of Verona and consists of 4 small towns "Albisano, Pai, Crero and Cà Tronconi".
Its historical centre is surrounded by medieval walls and towers, near the small harbour you will find the "Palazzo del Consiglio della Gardesana", built during the 14th century and nowadays know as the "Castello Scaligero", home of the ethnographical museum of the local history.
Best places to stay in Torri del Benaco:
Residence Ca Del Lago: located in a private park and overlooking Lake Garda, this residence offers and outdoor swimming pool and sauna. Suites and apartments have a balcony or small garden.
All the apartments and studios have air conditioning, a kitchenette, microwave and fridge. Free Wi-Fi throughout the property.
Residence La Corte Danese: only 250 meters from the shore of Lake Garda in Torri del Benaco, the La Corte Danese offers a swimming pool and spacious apartments with air-conditioning, lake view balconies, flat-screen satellite TV and kitchenettes.
7. Malcesine
Small but beautiful Malcesine is located on the east shore of Lake Garda a very well kept location that reminds, in its atmosphere, Lazise.
Malcesine is very busy in summer as it attracts families and laid-back couples, who enjoy the sun, strolling around eating an ice cream or just taking it easy on the beach.
You must absolutely take the cable-car that runs to Monte Baldo, where in winter you can ski and in summer just enjoy the many trails in the middle of nature.
Best places to stay in Malcesine:
Hotel Casa Barca – this 4-star hotel has a romantic ambiance in room amenities as flat-screen TV, air conditioning as well as free WI-FI. Roof-top terrace with swimming pool and private parking.
If you want to explore the surrounding Wellness Hotel Casa Barca is close to the Madonna della Fontana Church (0,1 km) and the Eremo dei Santi Begnigno e Caro (0,6 km).
Trentino Shore
Now let's move to the north of the Trentino side of the lake, the most famous among athletes.
1. Riva del Garda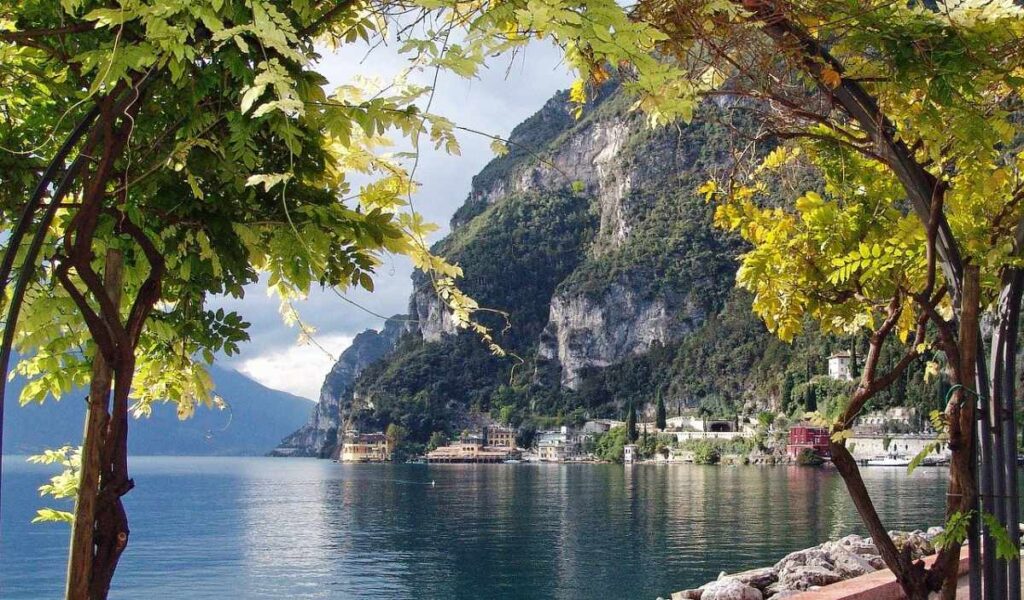 Riva del Garda is without any doubt one of the most romantic but at the same time adventurous town of the entire Lake Garda: it may be the natural landscape with the mountains on the background, the gliding of the sailing boats on the water or the colors of the facades of the houses in the centre, but strolling around here is really relaxing.
The town itself is beautiful and vibrant and you can enjoy relaxing days beside the shoreline, strolling along the harbour, reading a book in the public park or just taking a suntan on the beach.
Best places to stay in Riva del Garda:
Hotel Lido Palace – this 5-star hotel is located in a beautiful Belle Epoque era building of the early 20th-century, is a unique mix of old world charm and modern day chic. Here you will find high tech amenities including a state of the art SPA, complete with sauna, Turkish bath and a fully equipped fitness center with indoor and outdoor pools. Rooms at Lido Palace have black and gray décor, as well as a wall-mounted 42″ LCD TV, free WiFi, an extra-large bed and a modern bathroom with underfloor heating and exclusive toiletries.
The main restaurant serves traditional Mediterranean cuisine.
Du Lac et Du Parc Grand Resort – this 4-star hotel located in a parkland, with an outdoor swimming pool which comes with a to die for view of the mountains. The rooms are simple and modern, and the big windows will allow you to soak up the surrounding greenery. Bike rental is available so you can explore the surrounding area.
2. Nago-Torbole
Is divided into three small towns that are located on the shore of the lake : Nago, Torbole and Tempesta. These small towns offer incredible views across the breathtaking lake, and panoramic view of the mountains on the background. The perfect place for family holidays, where young and older can practice water sports, hiking among the olive groves and swimming in the waters of the various beaches to cool off.
Best places to stay in Nago-Torbole:
Garda Hotel Forte Charme: this 4-star hotel offers views of Lake Garda from its hilltop location and panoramic pool, Forte Charme Hotel is located in Nago, just outside Torbole sul Garda. Rooms are modern with air-conditioning, minibar and satellite TV.
The private bathroom includes free toiletries and a hairdryer. Some rooms have a lake-view balcony.
A breakfast buffet is served daily, and the surroundings offer many restaurants.
The nearest beach is approx. 1 km from the property, while Riva del Garda can be reached by car in 10 minutes. The A22 motorway is 15 minutes' drive away.
Now that you know which are the best places to stay on Lake Garda, you just have to choose the one that suits you best and organize your holiday.