For our September holiday, we chose Corfu, the northernmost island of the Ionian chain, also known as the greenest and most luxuriant of the Greek Islands. Corfu is rich in history with its sixteenth century fortress, culture with its churches, museums and monasteries, and particularly enjoyable with its picturesque villages surrounded by cypresses and olive trees.
Our home away from home is very important for us especially when our grandson Lorenzo joins us on our holiday. I started searching for the right Family Friendly Resort, the choice fell on Ikos Dassia newly opened all-inclusive five star resort. I must admit that I was a bit concerned as first of all it was all-inclusive, choice that we usually do not take into consideration, and it is well known that new facilities are beautiful, but often can reserve unpleasant surprises due to teething problems. All the reviews I had read on Ikos Dassia and sister hotels Ikos Oceania and Ikos Olivia were excellent therefore, that convinced me to take the plunge and book this resort for our holiday.
Well I must admit it Ikos Dassia definitely ticked all the boxes, keep reading if you are curious to know what we did during our stay, how was the food and what made our holiday at Ikos Dassia.
Arrival
Our flight from Milan Orio al Serio was nice and smooth and took about 2 hours, during landing I could see the turquoise water and the coast with its beaches reasons for which we often go to Greece. Stepping out the airport, we were met by a representative of Ikos Dassia who escorted us to our private transfer that was waiting for us. The resort is just a 30 minutes drive from the airport on the East coast of the beautiful Island of Corfu.
On arrival we were greeted by very friendly and smiling staff, who handed us lemon scented refreshing towels and escorted us on a breathtaking view terrace; we were offered something to drink while check-in formalities were executed. Arriving quite early in the morning our Panorama Junior Suite was not yet ready, therefore after having given us all the information on the resort we were invited to have breadkfast.
After breakfast, we decided to take a look around the resort. The environments are beautifully decorated with class and sober elegance. Nothing is left to chance: the terraces where, while sipping a drink or reading a book, you can admire a stunning view on the swimming pools and beach. The white beach is framed by pines and olive trees and I can notice that the sun loungers really do look comfortable and cannot wait to try them. The perfectly manicured gardens around the various pools and paths are an explosion of colors, with an incredible variety of plants and flowers. I must say that the first impression was excellent.
As we walk in the main lobby a smiling attendant informs us that our room is ready and escorts us to our Suite.
Ikos Dassia actually has two "main" buildings: Sea and Sky, each with its own reception, lobby, various bars and restaurants as well as a small shop and SPA and regardless of where your room is allocated you will be able to benefit of the facilities of both buildings. Being our room in the Sky building we are taken there with a buggy and it just takes a minute.
Accomodations
Our Panorama Junior Suite is very spacious and full of light, functional and elegantly decorated, the colors combine different shades of neutral browns, blues and whites, which in my opinion are very relaxing. The bed is huge and there is a comfortable sitting area with sofa bed for Lorenzo, a coffee table and plenty of storage space for the three of us which is very important, a flat screen TV and dresser with a mirror. WI-FI access is available as well as a minibar, which can be replenished daily, with soft drinks, mineral water, miniatures and wine. A Nespresso coffee machine and all you need to make yourself a cup of tea is at your disposal.
The washroom is huge, with a rain shower, soft bathrobes, slippers and very high quality Anne Semonin Paris toileteries.
The outstanding furnished terrace, has a panoramic breathtaking view on the resort and beach, every morning I would have my first coffee of the day watching the sunrise and in the evening, after a day on the beach, just relax while drinking a glass of wine admiring the sea.
All-inclusive dinning
With their 7 restaurants of which 6 à la carte and one buffet style plus a dine out experience Ikos Dassia really spoils you for choice and quality. The à la carte restaurants must be booked for dinner in advance, you can make up to three reservations before you arrive. Each restaurant has his own wine list from which you can chose the one that best matches your meal, should you not be an expert no worry, just ask the sommelier and he will be pleased to help you out and suggest the most appropriate wine for your meal. The à la carte menus of the restaurants have been created with the help of Michelin-starred chefs which have contributed to create a superb gastronomic experience together with a flawless service.
Flavors with its beautiful view on the Ionian Sea is the buffet style restaurant that you can find either at the Sky than Sea building.
Flavors is open for breakfast, lunch and dinner.
Breakfast is served in various restaurants and you really find everything you could wish for as: fresh fruits, juices, croissants, cold cuts, cheeses, vegetables and salads, sweets with all kind of delicious cakes, amazing greek yogurt, the chefs will be pleased to prepare cooked dishes for you, the omelettes and waffles with delicious.
For lunch and dinner at Flavors you will find a mediterranean style buffet with a show-cooking corner, where even the most difficult palates will certainly find something at their taste. We had dinner at Flavors on the first night and I must say that all was delicious with plenty of choice.
Ouzo the beachfront à la carte restaurant with its traditional Greek cuisine, located in front of the Sky Aqua Pool Bar, offers a menu created with the help of the Michelin-starred chef Lefteris Lazarou. Personally I loved the Greek salad with feta cheese and Corfu olives as a starter, the traditional Moussaka and fried calamari where mouthwatering, the Halva mousse with caramelized hazelnuts and hot chocolate sauce was my favorite desert. Ouzo is open for breakfast, lunch and dinner
Fresco the à la carte Italian cuisine restaurant located on the second floor of the Sky Building, the menu is created by the Michelin-starred chef Ettore Botrini. Here you will find a choice of classic dishes and innovative creations as the Vitello Tonnato with capers and tuna sauce, the chicken saltimbocca with prosciutto and fregola risotto was delicious and you must absolutely try the traditional panna cotta with first berries and sweet basil pesto.
Fresco is open for breakfast, lunch and dinner.
Anaya my favorite à la carte restaurant with its Asian cuisine, located on the second floor of the Sea Building overlooking the Ionian Sea. Here you will enjoy tastes coming from Chine, Thailand and India. I loved the vegetarian spring rolls and the Tom Yum Kung with mushrooms and shrimps as starters, Miso marinated salmon with eggplant and black sesame puree was my favorite as a main course and obviously had to finish my dinner with Roasted pineapple with coconut ice cream sorbet.
Anaya is open for dinner only.
Provence the à la carte French cuisine restaurant, located on the second floor of the Sky building here you will enjoy dishes created by the Michelin starred chef Anthony Jehanno. You should try the Potage Parmentier with scallops and caviar, the Braised lamp shoulder with vanilla-garlic glaze, fondant potatoes, asparagus and carrot emulsion and finish you dinner with the Crème Brulée with berries.
Provence is open for dinner only.
Kerkyra beachfront traditional à la carte Corfu cuisine, located in the front of the Sea Building, here you will enjoy the best Corfu Island cuisine. I had the Red mullet with Kefalotyri cheese, Corfiot spices with fresh tomato sauce as a starter, Cod fish "Tsigareli" with wild greens and b read gnocchi as a main dish and the "Almond Dream" almond dacquoise, almond hazelnut cream, milk chocolate and almond praline vanilla ice cream. Kerkyra is open for breakfast, lunch and dinner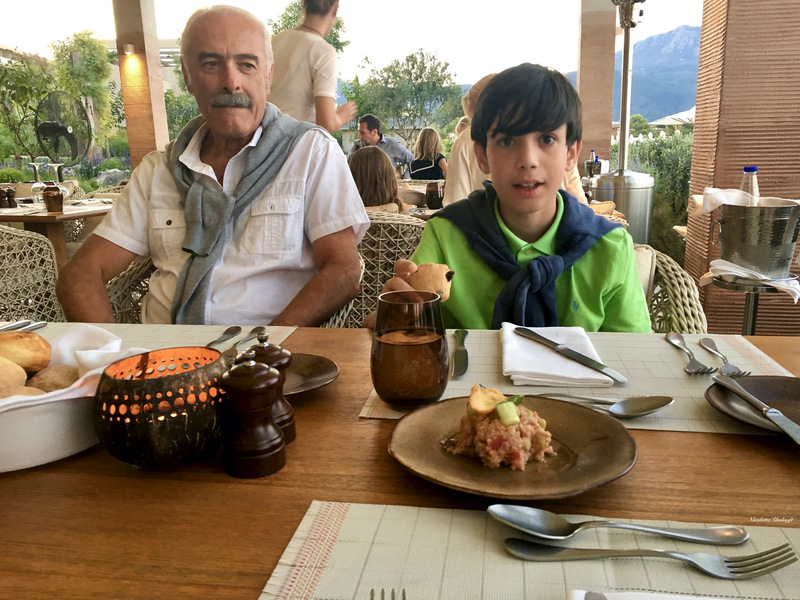 Ergon Deli with its modern Greek cuisine is located on the second floor of the Sea Building. You should try the Cretan salad with barley bread, tomatoes, sheep cheese and rocket leaves as a starter, the "Soufihta" traditional pasta with tomato sauce, olives, smoked pork "Apaki" and Feta cheese you will love it and finish with a Kadaifi phyllo pastry with vanilla ice cream, cinnamon and pistachio.
Dine out experience is also available at Ikos Dassia, when we were there we had 3 choices – all have a set menu for Ikos guests. Ikos has an agreement with various restaurants where you can go for dinner, at no extra charge as part of the all-inclusive deal.
A Wine Bar located at the second floor of the Sea Building where you will have the possibility to taste very high quality wines with appetizers.
Room service is available 24 hours a day the variety and choice on the room service menu is very good.
Pools & beach
Ikos Dassia offers an excellent choice of heated indoor and outdoor swimming pools with separate children's and baby pools as well as adults only pools. All are kept in an accurate way and supplied with comfortable sun loungers and soft towels, always attended by smiling and polite staff that will take care of you. All the swimming pools have a bar from which you can order drinks and enjoy a light lunch under your umbrella.
The 600 mt long beach area of white sand framed by pines and olive trees is the best place to sunbathe and relax on comfortable sun loungers and soft towels.
Smiling and helpful staff will be pleased to serve you refreshing drinks and snacks delivered directly under your umbrella – this service is part of Ikos Infinite Lifestyle. Lorenzo our grandson, loved having a snack on the beach after his afternoon swim.
Activities and entertainment
Whether you are at the pool or beach in or out of the water, there are many activities that you and your kids can enjoy at Ikos Dassia and all or almost are free of charge. Believe me you won't have time to get bored. My husband and Lorenzo loved to use the pedalo and the canoa every day.
Ikos Dassia has 2 tennis courts with floodlights (equipment available), Fitness studio at the SPA, Aerobics, Aqua Aerobics, Mini Basketball, Beach Volley, Beginners Yoga, Canoeing (once per day 20 minutes) Cardio training room, introductory diving lessons at the pool, mountain biking for adults and kids, Paddling (one per day 20 mins), Pedalos (one per day 20mins), Pilates, and many other sports and activities.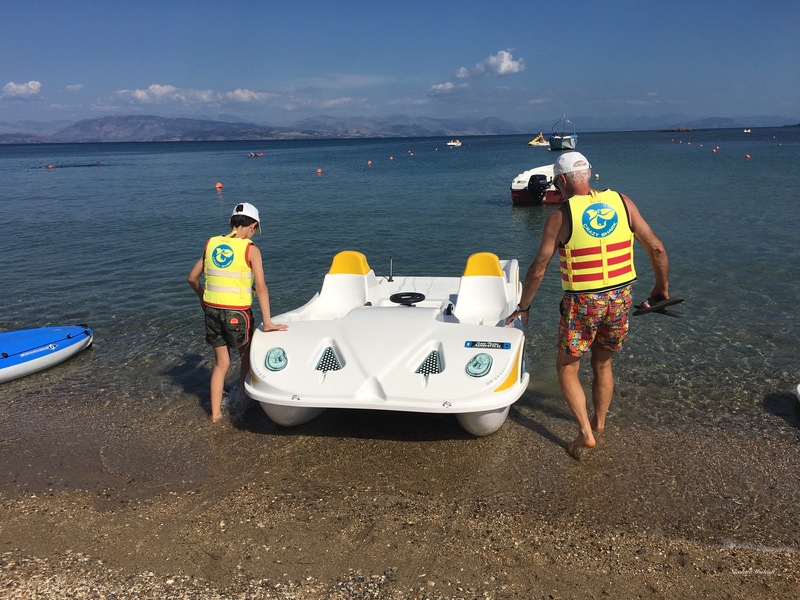 The "Sunset Cruise" well obviously we had to try the sunset mini cruise of about 90 minutes that Ikos organizes every evening for their guests. We really enjoyed it, we where able to admire the coast and delight ourselves with a spectacular sunset. During the cruise Champagne and soft drinks are offered, obviously this is also included in the Infinite Lifestyle offer, reservation is requested.
During your stay you will also have the possibility, in addition of all the above benefits, to have, for one day, prior booking and free of charge, the use of a Mini Cooper. The only obligation is to refill the tank before handling back the mini when you return. Should you wish to have a picnic on one of the beautiful beaches of Corfu, a lunch box can be prepared for you. Unfortunately we were not able to use this service as my husband had forgotten his drivers license at home!!!!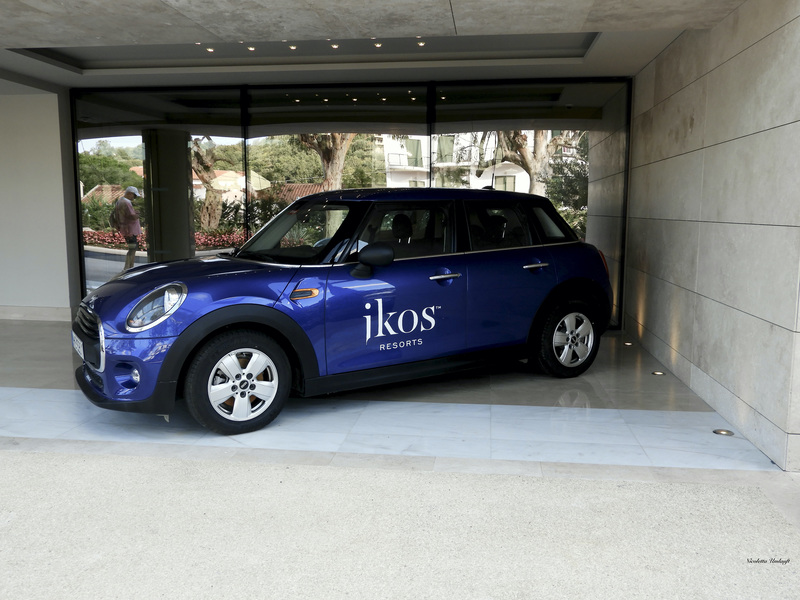 A shuttle bus at scheduled times is also at disposal of the guests and can drive you to the city of Corfu, we used it a few times and must say that the service is very good.
And the kids!!!!!
Do not worry Ikos has also thought about your kids, and grandparents (like us!) and parents can relax and enjoy their holiday leaving, for a few hours, their kids in safe hands of qualified personnel at the kids clubs.
Heros Crèche for small children from 4 to 23 months (1 adult every 3 children) and from 2 to 3 years old (1 adult every 4 children) – (this service is at extra charge).
Heros Kids Clubs for children from 4 to 12 years old (1 adult every 8 children) – free of charge (extra charges may occur for water sports or ice cream trips)
Just 4teens for children from 13 years old (1 adult every 8 children) – free of charge (extra charges may occur for water sports).
In these clubs many activities are organized as by the different age groups of the children as arts and crafts, sports, cooking, water sports, swimming and various games.
WK football academy is also available for children from 5 to 8 years old and from 9 to 14 years old (this activity is at an extra charge).
SHOWS AND PARTIES
Every evening, Lorenzo really liked going at the theater after dinner, he enjoyed the good shows and musicals they put on.
On Wednesday nights, the hotel organizes a White Party on the beach. We really enjoyed dancing bare feet on the sand by the sea at the sound of live music, and the enchanted atmosphere of the candles along the paths and the swimming pools of the resort
I must say that Ikos has really thought of everything to make your holiday a special one.
THE SPA
There is one thing I cannot do without during my holidays and it is to be pampered at the SPA, access to the Ikos Dassia SPA by Anne Semonin is included in the Infinity Lifestyle for all guests over 16 years of age.
A special and luxurious space where you can relax and get rid of the stress you have accumulated during the whole year. Various treatments are available and executed by professional therapists at an extra charge, the relaxing massage was without any doubt one of the best I have ever had. Other facilities, to make sure that your pampering is complete, are available and included in the Infinite Lifestyle as a heated indoor/outdoor pool, hamman and sauna and a relaxation area. Hairdressing salon and nail salon are also available at a charge.
For those who can really not do without exercising, at the Fitness Studio with state-of the-art equipment and contemporary cardio-fitness facilities you will find everything you need to keep yourself in shape. If you wish you can, every morning, attend yoga and pilates classes on the outdoor deck. Aqua gym, aerobics, Zumba classes take place during the day, the only request is to be willing to do it!!!!
Deluxe Collection
A world of exclusive privileges as a bottle of Tattinger Champagne will be waiting for you in your room, a private beach and pool, a neck and back massage (one per stay and per adult) at the Anne Semonin SPA, a personal deluxe concierge, a special dinner on the beach and many other benefits that I will let you discover by yourself during your stay.
My opinion and final verdict
Needless to say that we really enjoyed our stay. Ikos Dassia with its sober elegance, offers authentic and unique experiences on one of the most idyllic beach of the island re-inventing the all-inclusive concept and creating a new and stimulating experience of a luxurious holiday in Corfu. We were simply spoiled for choice and cannot wait to try another Ikos Resort next summer.
Disclaimer: This article is the fruit of a real experience, and the stay has been regularly paid and is not a gratuity for promotional purposes.